Rural policy researchers from Korea, China, and Japan gather to discuss the rural revitalization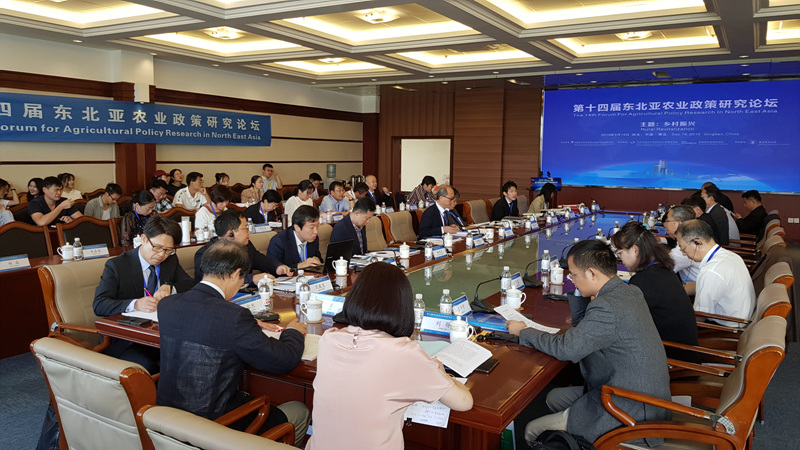 The Korea Rural Economic Institute (KREI) held the 14th Forum for Agricultural Policy Research in Northeast Asia (FANEA) in Qingdao Agricultural University on September 19 under the theme of "Rural Revitalization" in coordination with the Institute of Agricultural Economics and Development of the Chinese Academy of Agricultural Sciences (CAAS/ IAED) and the Policy Research Institute, the Ministry of Agriculture, Forestry, and Fisheries of Japan (PRIMAFF).
Kim Hong-Sang, President of KREI, Yuan Longjiang, President of IAED, and Osamu Kamiya, President of PRIMAFF, attended the Forum along with 100 agricultural policy researchers of the three countries.
The Forum consisted of two sessions in the format of experts' presentations and ensuing discussions: I) Revitalization of Agricultural Industries and Development Models, and; II) Support Policies for Rural Revitalization. In the first session, Jeong Do-Chae, a researcher of KREI, made a presentation under the topic of "Regional Characteristics of Korean Rural Development." In the second session, Researcher Sim Jae-Hyeon addressed under the theme of "Tasks and Directions of Rural Policy toward the Future."
After addresses by presenters of the three countries, Korean, Chinese, and Japanese researchers engaged in passionate discussions to share each country's rural situation and seek effective ways for support. Kim Hong-Sang, President of KREI, expected the Forum would serve as a venue for a shared understanding and interest in agriculture, saying, "Although rural situations of the three countries are different, shared wisdom will lead to solutions suitable for each country's situation."
The Forum for Agricultural Policy Research in Northeast Asia (FANEA) had its first meeting in 2003 to exchange information on agricultural and rural policies and promote relevant academic research. Since then, the Forum has taken place every year under a theme of shared interest. The three countries take a turn in hosting the Forum.